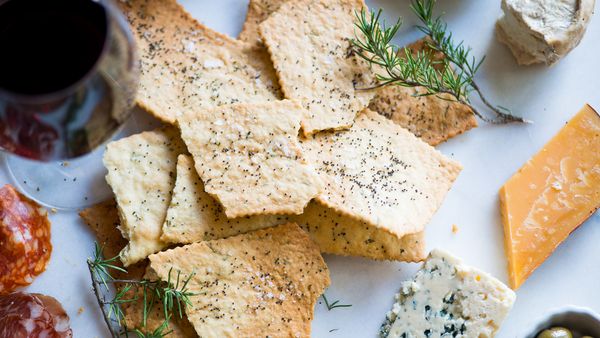 Cooking Tips: If the dough gets overworked when combining the water and oil into the flour it may be elastic when trying to roll out. Let the dough rest for 10-15 minutes and it should relax and be easier to roll. If the crackers become several days old and start to loose their crispness, place the crackers in a 350 degree F oven for a few minutes to crisp up.
Serves 4-6

2 cups (250g) flour
1 teaspoon (5ml) baking powder
1 teaspoon (5ml) kosher salt
1 teaspoon (5ml) sugar
1/2 teaspoon (3ml) fresh cracked black pepper
2 tablespoons (30ml) chopped fresh rosemary
1/4 cup (60ml) olive oil, plus extra for brushing
1/2 cup (120ml) water
kosher or large flaked salt, for garnish
poppy seeds, for garnish
Instructions
Preheat oven to 450 degrees F. Lightly oil two half-size baking sheet pans (18-inch x 13-inch) with olive oil.Whisk together the flour, baking powder, salt, sugar, black pepper, and rosemary. Using a stand mixer fit with a dough hook or by hand, mix in the olive oil and water into the flour mixture until the dough forms a rough ball.Divide the dough into half. Roll one half out to a rectangle approximately 9-inch x 13-inch. Transfer to one of the prepared sheet pans and continue to roll it out until it nearly reaches the edges of the sheet pan. Repeat with the other dough half.Lightly oil the rolled out doughs. Sprinkle with flakey salt and poppy seeds. Cut into desired cracker widths.