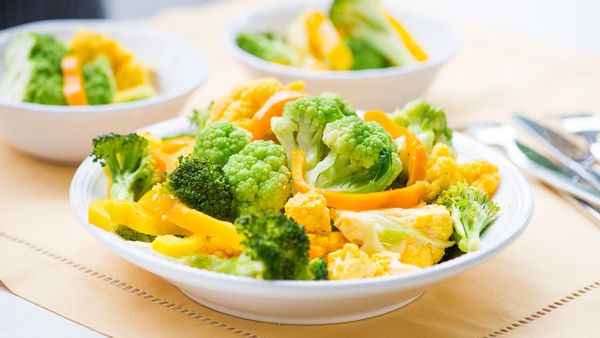 1 medium head Cauliflower or Romanesco
¼ pound of Broccoli or Broccolini
2 medium Bell Peppers or any Vegetable combination of your choice




For the vinaigrette:
¼ cup (60ml) Olive Oil
zest 1 medium Lemon
juice of 1 medium Lemon
¼ teaspoon Kosher or Sea Salt, or more to taste
fresh ground Black Pepper, to taste
Instruction
1. Wash and prepare vegetables. When selecting vegetables, try to choose vegetables that have similar firmness and texture so that they all cook evenly at the same cooking time.
2. Cut vegetables into bite sized pieces or your choice of serving sized-pieces. Cooking times will vary depending on how thick you cut the vegetables. Check doneness of vegetables occasionally.
3. Put Steam Oven on Steam Mode at 212 degrees F.
4. Place vegetables in Full-Size Cooking Pan.
5. Steam vegetables for about 10 minutes or until cooked to your preferred tenderness.
6. In medium bowl, whisk together all vinaigrette ingredients.
7. Toss vinaigrette with vegetables and serve.