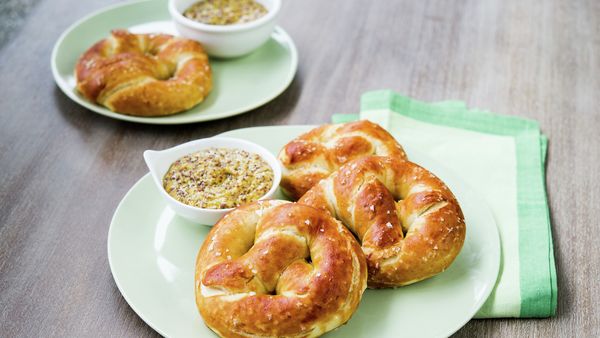 About 8 pretzels


2 ¼ teaspoons (1 pkg) Active Dry Yeast
¾ cup (175ml) warm Milk (@110 degrees F)
2 Tablespoons Brown Sugar
¾ cup (175ml) lager or pilsner Beer
2 Tablespoons unsalted Butter, at room temp
2 teaspoons Kosher or Sea Salt
@ 4 ½ cups (560g) Flour
Pretzel Washes
1 cup (240ml) Water
1 Tablespoon Baking Soda
1 Egg
1 Tablespoon Water
Instruction
1. In the bowl of a stand mixer, combine yeast, milk, and brown sugar in a bowl and stir to dissolve. Allow to sit for 5 minutes.
2. Fit mixer with dough hook and stir in beer, butter, salt, and flour. Mix on medium speed for 3-4 minutes or until smooth and dough ball pulls away from sides. Dough should be tacky but not sticky. If needed add a couple tablespoons of flour more at a time until the desired texture is reached.
3. Cover bowl with plastic wrap and set in a warm spot to proof until doubled in size, about 1 hour.
4. After the dough has proofed, preheat the Steam Oven to 450 degrees F on Steam Convection mode. Line a couple of Full Size Baking Trays with parchment paper and lightly oil the paper with vegetable oil. Set aside.
5. Put the pretzel wash's cup of water in a saucepan and bring up to a boil. Add baking soda. Boil for 1 minute then set aside.
6. In a separate bowl, beat together the egg and tablespoon of water. Set aside.
7. Divide the dough into 8 equal portions. Roll each portion out into a 24"-28" rope. Make a U shape with the rope, and holding the ends, twist the ropes twice at about 4" away from the ends. Flip the ends and take them back down towards the bottom of the U and press the ends into the rope to form the shape of a pretzel.
8. Lay onto the lined baking trays.
9. Brush pretzels with the hot water/baking soda mixture, then brush with the egg wash.
10. Bake for 12-14 minutes or until dark golden. Cool for at least 5 minutes before serving.
Mustard
½ cup (110g) whole grain Dijon Mustard
2 Tablespoons Spicy Brown Mustard
3 Tablespoons (45g) prepared Horseradish
2 teaspoons Sesame Oil
1 teaspoon ground Ginger
3 Tablespoons (42g) Brown Sugar
Mix all to combine.
Serve with the finished pretzels.