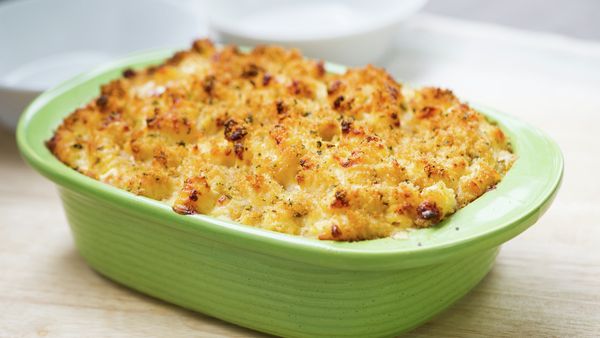 1 pound (455g) Elbow or similar Pasta, cooked


Cheese Sauce
5 cups (1180ml) Milk
1 medium Onion, roughly sliced
2 Bay Leaves
¼ cup (56g) unsalted Butter
1/3 cup (42g) Flour
2 teaspoons Kosher or Sea Salt
fresh cracked Black Pepper
freshly grated Nutmeg, to taste
8 oz (225g) aged Cheddar, grated
8 oz (225g) Parmigiana Reggiano, grated
8 oz (225g) fresh Goat Cheese, pinched into 1" pieces

Topping
3 Tablespoons (42g) unsalted Butter, melted
1 cup (110g) dried Breadcrumbs
2 Tablespoons Italian Parsley, finely chopped
Kosher or Sea Salt, to taste
fresh cracked Black Pepper, to taste
Instruction
1. Preheat oven to 350 degrees F, Steam Convection Mode. Butter a 2 quart baking dish.
2. Make the cheese sauce. Combine the milk, onions, and bay leaves in a saucepan and heat to a near simmer. Remove from heat and allow the flavors to infuse for 15-20 minutes.
3. In another saucepan, melt the butter, then whisk in the flour. Cook on medium heat for another 2 minutes.
4. Strain milk into the roux (butter/flour mixture), whisking until the roux is fully incorporated into the milk. Bring to a simmer over medium heat and cook for another 5 minutes or until the sauce thickens. Remove from heat.
5. Season the sauce with the salt, black pepper, and nutmeg. Stir in the cheddar cheese and parmigiana reggiano until fully incorporated.
6. Make the topping. Combine the melted butter, breadcrumbs, parsley, salt and pepper in a bowl and mix well.
7. Place the cooked pasta in a large bowl. Stir in the cheese sauce until well distributed. Fold in the goat cheese until barely distributed (you want chunks of the goat cheese to still be not melted).
8. Pour the pasta into the prepared baking dish and spread the topping over the pasta.
9.Bake for 30 minutes or until golden on top.