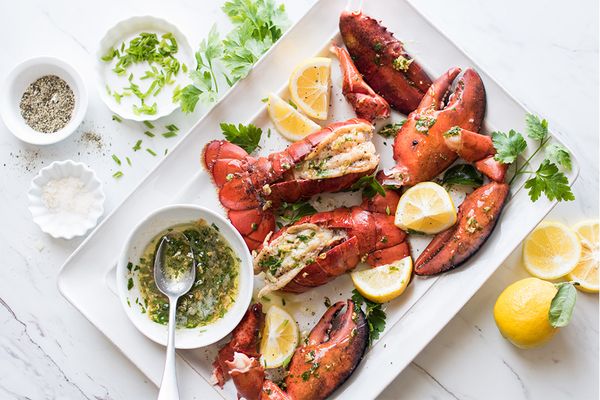 For the Lobster:
2-3 whole live East Coast lobsters
1/4 cup Kosher salt or sea salt
1 Tablespoon old bay seasoning
2-3 large lemons

For the Crispy Garlic and Parsley Brown Butter:
1/2 cup of butter (1 stick)
3 cloves garlic, minced
3 Tablespoons fresh chopped parsley
1 Tablespoon fresh chives, minced
1/2 teaspoon lemon pepper
Additional Kosher salt or sea salt, to taste
Fresh cracked black pepper, to taste
Instructions
1. Make the Garlic Butter: Heat small saucepan on medium heat. Melt the butter and then add garlic. Stirring frequently, cook until the butter slowly becomes light brown and slightly foamy. (A fragrant nutty flavor will evolve from the brown butter.) Immediately remove butter from heat and stir in the parsley, chives, and lemon pepper. Season with salt and pepper to taste.
2. Place the live lobsters in the freezer for 10-20 minutes (this will put the lobster to sleep before boiling to humanely kill them). After freezing, remove the rubber bands from the claws before boiling.
3. Parboil the Lobster. Fill a large stockpot with water that is large enough to fill the lobsters. Add salt and old bay seasoning to the water and bring to a boil.
4. Add lobsters into the hot water, head first. Cover the pot and continue cooking the lobster for about 6 minutes or until the shells are bright red. Remove lobsters and allow them to cool enough to comfortably handle. Remove the claws and tails from the bodies.
5. Broil the Tails: Turn oven on to Broil on High or 550°F. Place oven rack in middle position in the oven. Rewarm the brown butter garlic sauce, if needed.
6. Using sharp kitchen scissors or shears, carefully cut the top of the lobster tail shell down to the tip of the tail. Pull the shell apart slightly and carefully separate the meat from the sides of the shell. Cut a slit down the length of the lobster meat and remove the black vein running the length of the tail. Place the lobster tails and claws on a lined baking sheet or oven-safe baking pan. Generously brush the tail meat with the browned butter garlic sauce.
7. Place lobster tray in oven and broil for about 3-4 minutes until the tail meat is lightly golden. Serve warm with the garlic brown butter sauce.