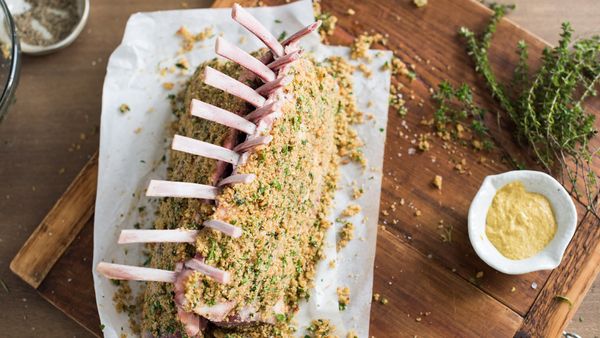 2 racks of Lamb (1 to 1 1/2 lbs. each), trimmed
2 Tablespoons Dijon Mustard
2 Tablespoons Olive Oil
1 Tablespoon Honey
2 teaspoons Worcestershire Sauce
1/2 teaspoon smoked Paprika
1 Tablespoon chopped fresh Herbs of choice (parsley oregano, thyme, and/or rosemary)
3 cloves Garlic, minced
Kosher Salt, to taste
Fresh ground Black Pepper, to taste
3/4 cup Bread crumbs
1/4 cup fresh grated Parmigiano-Reggiano Cheese (or similar hard cheese)
1. Preheat the oven to Roast at 350°F with the rack near the center of the oven.
2. Rinse and pat the lamb racks dry. Trim any excess fat from the racks. Season lightly with salt and pepper.
3. Heat a large skillet (cast iron is preferred) over high heat. One rack at a time, sear the meat on the racks until nicely browned, about 2 minutes per side. If desired, this can be done an hour or two ahead of time; just leave the lamb at room temperature after searing.
4. In a bowl, whisk together the Dijon mustard, olive oil, honey, Worcestershire sauce, paprika, herbs, and garlic. Season lightly with salt and pepper. In another bowl combine the breadcrumbs and Parmigiano-Reggiano cheese.
5. Brush the meat of the lamb racks with the mustard mixture. Roll the racks in the bread crumb/Parmigiano-Reggiano mixture, pressing the crumbs to help them adhere.
6. Place the racks, bone side down (you may need to interlock the bone ends to make them fit) on a baking sheet pan or in a roasting pan. Arrange the racks so the meaty part faces outside of the pan. Roast for 20-30 minutes, depending on size and preferred doneness. (You can use an instant-read thermometer inserted into the center of the meat to check the doneness; 125-130°F for rare - 135-140°F for medium).
7. Remove from oven and allow to rest for about 5 minutes. Carve and serve.