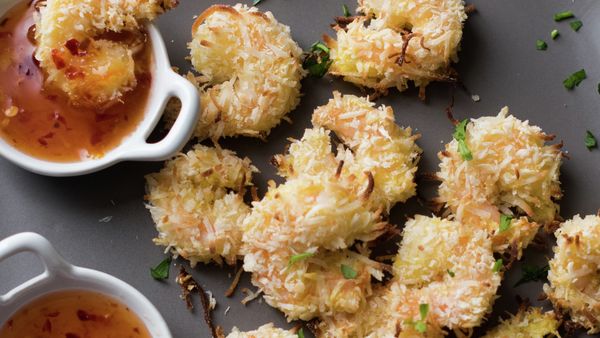 Serves 6-8

Coconut Shrimp Ingredients:
2 pounds large tiger shrimp, peeled and deveined
kosher or sea salt, to taste
fresh ground black pepper, to taste
½ cup all purpose flour
1 teaspoon ground cumin
1 teaspoon paprika
2 large eggs
1 cup sweetened coconut flakes
1 cup Panko bread crumbs
¼ cup minced flat leaf parsley, for garnish
optional garnish: shredded cabbage
optional garnish: minced parsley or cilantro
Orange Chili Dipping Sauce Ingredients:
1/2 cup orange marmalade
zest of 1 medium orange
2 tablespoons orange juice
1 tablespoon chili garlic sauce
1 tablespoon rice vinegar
1/2 teaspoon kosher or sea salt, or to taste
Instructions
Coconut Shrimp Directions:
Pre-heat oven to 375. Line a baking sheet pan with parchment paper. Rinse and pat dry the shrimp. Season with salt and pepper. Set aside. In medium bowl combine flour, ground cumin and paprika. In another medium bowl, whisk together eggs. In another medium bowl combine coconut flakes and panko bread crumbs. Dip the shrimp in flour mixture, then dip in egg mixture, then coat the shrimp with the coconut/panko mixture. Place shrimp on prepared baking sheet. Repeat coating process on all the shrimp. Bake the shrimp for about 15-20 minutes or until the crust is golden brown. If needed, turn the shrimp for more even coloring after baking for 10 minutes.Serve on a bed of shredded cabbage or garnished with parsley/cilantro and the orange chili dipping sauce.
Orange Chili Dipping Sauce Directions:
Whisk together the all of the ingredients (orange marmalade, orange zest, orange juice, chili garlic sauce, rice vinegar and salt) until smooth. Set aside until ready to serve with the coconut shrimp.