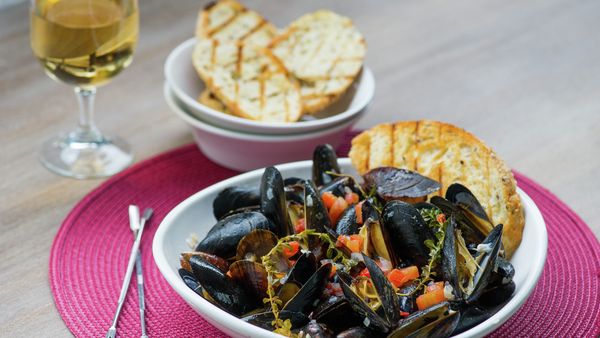 2 pounds (910g) fresh Mussels, cleaned and scrubbed
3 Tablespoons (45ml) Olive Oil
5 cloves Garlic, minced
3 large Shallots, minced
1 ½ cups (360ml) dry White Wine
½ teaspoon Kosher or Sea Salt
fresh cracked Black Pepper, to taste
3 large ripe Tomatoes, coarsely chopped
3-4 fresh springs Thyme, or your favorite herb
zest of 1 Lemon
Slices of French bread or crusty bread
Olive oil for spraying on bread
Instruction
1. Pre-Heat Steam Convention Oven on Steam mode at 210 degrees.
2. On a stovetop, heat a large saucepan over medium heat then add olive oil.
3. Add onions and garlic and cook till tender and translucent.
4. Add white wine, sprigs of herbs and salt and pepper. Bring to a boil, then remove from heat.
5. Add chopped tomatoes to wine broth.
6. In the Full-Size Cooking Pan, add mussels and pour tomato garlic wine broth over mussels.
7. Steam mussels 5-10 minutes or until the majority of the mussels open up. Discard mussels that do not open up.
8. Spray or brush olive oil on slices of crusty bread. On heated grill or pan, grill the bread until they become crisp.
9. In serving bowls, add cooked mussels and ladle over some tomato garlic wine broth.
10. Garnish with fresh sprigs of herbs.
Serve with grilled bread.
Serves 2