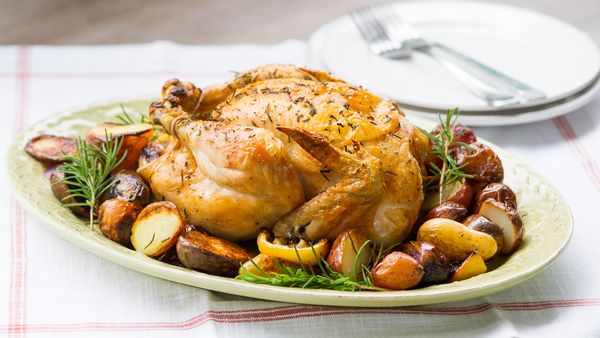 1 whole Chicken
2 Tablespoons Olive Oil
2 Tablespoons fresh chopped Rosemary
zest from two Lemons
Sea Salt of Kosher Salt
fresh cracked Black Pepper
3 medium Lemons, cut into quarters
Preheat oven to 425°F, Steam Convection Mode
Instruction
1. Combine olive oil, rosemary, and meyer lemon zest. Truss the chicken if desired. Spread rosemary mixture evenly over the chicken.
2. Season chicken generously with salt and pepper. Place in a baking dish or a Baking Tray that comfortably fits the chicken. Squeeze one lemon worth of quarters over and inside the chicken and place the squeezed pieces plus one more lemon's worth of wedges in the pan with the chicken.
3. Cook for 1 hour - 1 hour 15 minutes, or until juices run clear when you cut between the leg and the thigh or the temperature in the thickest part of the thigh reads 165°F when probed with an instant read thermometer.
4. Remove from oven and allow to rest for about 20 minutes. Carve and serve with the third set of lemon quarters to squeeze as desired.