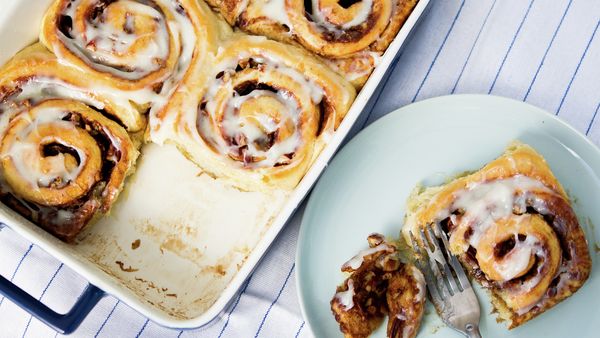 Dough
1 cup (235ml) Milk
1 Tablespoon Active Dry Yeast, 1 1/2 packets
1/4 cup (55g) Brown Sugar
1 teaspoon (5g) Kosher or Sea Salt
1/2 cup (115g or 1 stick) unsalted Butter, melted
3 1/4 cup (400g) all-purpose Flour


Cinnamon Filling
1/2 cup (115 g or 1 stick) unsalted Butter, melted
1 cup (200g) Brown Sugar
1/4 cup (50g) granular Sugar
2 1/2 Tablespoons ground Cinnamon
1 cup (100g) Pecans, chopped
Icing
4 oz (110g) Cream Cheese, at room temp.
1 cup (115g) Confectioner's Sugar
2 Tablespoons Milk
Instruction
1. Gently warm the milk to 110°F (lukewarm bath temp.) Pour milk into a bowl (dough can be mixed in a stand mixer with a dough hook or mixed by hand) with the yeast, sugar, and salt. Stir to combine and dissolve yeast. Stir in the melted butter.
2. Mix in the flour until a soft dough forms. You may have to add a little extra flour if dough is too sticky. Should be slightly tacky but not overly sticky. Add flour a couple tablespoons at a time until you reached the desired tackiness.
3. Cover bowl and set in a warm place to rise for about an hour or until doubled in volume.
4. When dough is almost done rising, melt the butter for the cinnamon filling. Set aside to cool slightly. Combine sugars and cinnamon in a bowl and set aside.
5. Lightly butter a 2 quart baking dish.
6. Melt the butter for the filling and set aside to cool slightly.
7. Put dough on a lightly floured work surface. Roll dough out to approximately 1/4" thick and 18"x14".
8. Spread the filling's melted butter evenly across the top surface. Evenly sprinkle cinnamon sugar mix over dough. Sprinkle chopped pecans over the dough.
9. Beginning with the longer side facing you, use both hand to roll the dough into a log. Slice the log into 9 even sections, approximately 1 1/2" wide.
10. Place the rolls cut side up in the buttered baking dish, spaced apart from each other. Cover and allow to rise for 45 minutes in a warm place, or until approximately doubled in volume.