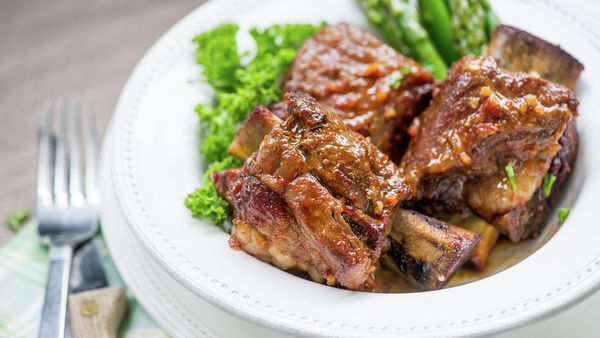 2 pounds (910g) Beef Short Ribs
optional – minced fresh Basil, Oregano, Italian Parsley or other herbs of your choice


For the BBQ sauce:
2 Tablespoons Vegetable Oil
4 large cloves Garlic, minced
½ cup (123g) Ketchup
1/3 cup (80g) Tomato Sauce
1 Tablespoon Soy Sauce
2 Tablespoons Worcestershire Sauce
2 Tablespoons Brown Sugar
1 Tablespoon Molasses
1 teaspoon smoked Paprika
3 Tablespoons Apple Cider Vinegar
Instruction
Heat medium saucepan, then add vegetable oil. Add garlic and cook till tender and translucent.
Add remaining sauce ingredients: ketchup, tomato sauce, soy sauce, Worcestershire sauce, brown sugar, molasses, smoked paprika and apple cider vinegar.
Simmer on low heat for about 10 minutes or until sauce thickens and well combined. Allow to cool completely.
In plastic bag, add short ribs and about ¼ cup of the bbq sauce, or just enough to coat the short ribs. Refrigerate and marinate for about 1 hour.
Pre-heat steam convection oven on Steam and Convection mode at 300 degrees.
Place short ribs in baking dish and pour the remaining sauce over the ribs, tossing to coat completely. Cook ribs for 2 hours or until ribs are tender. About every 20 minutes, baste the ribs with sauce and half way through cooking, flip the ribs over so they will cook evenly. Cooking time will vary depending on size of ribs.
Remove from oven allow to rest for 5-10 minutes.
Before serving baste with additional sauce over the ribs. Garnish with minced herbs (optional) or serve with your favorite vegetable or salad.
Serves 3-4.