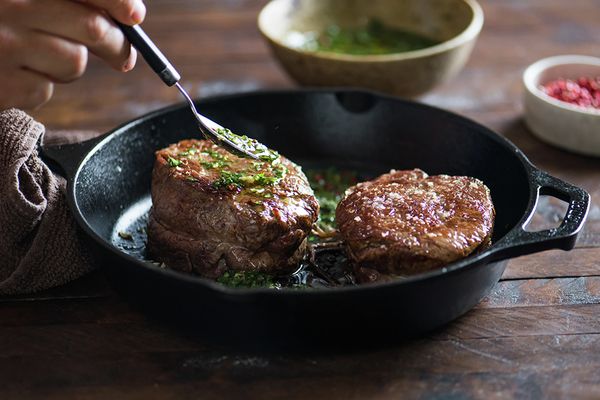 For the Steaks

2 (about 10 oz) filet mignon steaks
Kosher or sea salt, to taste
Fresh cracked black pepper, to taste
For the Pink Peppercorn Chimichurri Sauce

1/4 cup extra virgin olive oil
1/2 cup finely minced parsley (about 1 large bunch)
2 cloves garlic, minced
zest of 1 medium lemon
2 Tablespoons fresh lemon juice
pinch of red chili flakes, or to taste
1/2 teaspoon kosher salt, or to taste
fresh cracked black pepper, to taste
1 teaspoon pink peppercorns, slightly crushed
Instructions
1. In medium bowl combine olive oil, parsley, garlic, lemon zest, lemon juice, salt, pepper red chili flakes and pink peppercorns. Set aside.
2. Preheat oven to Roast 400° F.
3. Tie filet mignon steaks into an even round shape. Season with salt and pepper on both sides.
4. Heat a large oven proof skillet (preferably cast iron) over high heat. When very hot, place steaks in skillet and sear until a nice dark crust develops, approximately 1-2 minutes on each side.
5. Place pan directly into the oven and cook for 5-15 minutes, depending on the thickness of your steaks and desired doneness. (Test by pressing and feeling steak firmness or check the internal temperature with a thermometer for steak doneness; 130-135°F for medium rare, 155-165°F for medium well.)
6. Remove steak from pan and set aside covered with foil. Allow to rest for about 5 minutes.
7. Serve the steaks sauced with the pink peppercorn chimichurri sauce.